Avant 420 Loader
Avant are a large manufacturer based in Ylöjärvi, Finland, who have manufactured more than 45,000 loaders.They are well known in the agricultural industry from their vibrant, fluorescent green coloured machines.
The Avant 420 loader is a piece of machinery that is excellent for horse farms, farming and private use. With all Avant loaders, there are several attachments that you can purchase alongside the loader, to tackle a multitude of jobs. This is throughout the whole Avant range. The Avant 420 costs roughly around £15,000+, which is clear to say a very costly investment.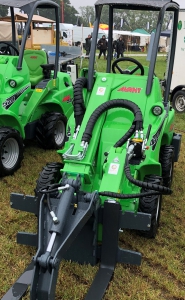 Here at TECH5, we offer finance on £1,000+ machinery on a 1 – 5 year term. With access to over 50 UK funders we can provide you with industry leading rates.
Finance From £250 A Month!
Term: 6 years
Monthly Repayment: £250+VAT
The benefits of financing your Avant 420?
You might not be familiar with financing, so may be wondering what the beneficial factors to your business are.
Significant tax benefits
Rentals are 100% allowable against Corporation Tax.
Flexibility
You decide the rental term, payment frequency and deposit. You can even settle early or upgrade before the end of the agreement.
Pay while you use it
Pay for the equipment as you use it, as opposed to all upfront.
Preserve cash flow
Keep your cash in the business to spend on items with higher returns.
Budgeting and planning
Fixed repayments over the rental period makes budgeting and planning easier.
Unaffected credit lines
Your existing credit lines remain unaffected.
Supplier relationships
TECH5 have great supplier relationships across the country. We don't supply the equipment; however, we are more than happy to recommend and put you in contact with the suppliers we know.
Contact Us
The financing process is very simple, quick and efficient. If you are interested in financing an Avant 420 loader or would like some more information call the TECH5 team on 01494 611 467 or enquire below now!